Introduction
Midland Heart is one of the top ten housing and regeneration groups in the country and the largest based in the Midlands. It has 32,000 homes under management. The organisation was formed following a series of mergers of Midlands based associations created in the 1970s and 1980s, ultimately coming together to form Midland Heart in April 2006.
The Challenge
Midland Heart was making some use of GIS but had no source information and so had purchased basic MasterMap data from Ordnance Survey and title deed records from the Land Registry.  The challenge was to create effective land use data to produce both easy to use statistical data and accurate management information initially to inform and then efficiently tender and manage multiple grounds maintenance contracts.
There were over 600 separate sites covering more than 14,000 properties to identify stretching from inner city Birmingham and Coventry to Herefordshire, Stoke-on-Trent, Leicester, and Northampton.
The Solution
Data Insight GIS advised on the best approach to take to address the problem of building up an accurate picture from limited and uncoordinated existing data. The project began with the uploading of the basic Land Registry property ownership records or "extents" as polygons (boundary areas) on to the OS MasterMap to create a series of base digital maps.
Data Insight GIS then used aerial imagery and OS mapping to complete a desktop exercise that captured the land use type and grounds maintenance features on to the digital maps to illustrate the total land use coverage within the designated ownership boundary by marking the location of the agreed principal features such as shrubs, trees, grassed areas and the building footprint.
Once the initial desktop data capture task to determine land use was completed PDF documents were created for use by Data Insight's surveying partners, the John Lester Partnership, to take into the field.  A 100% site survey was carried out with amendments being marked on to the initial plans by the surveyors, with measurements if appropriate, to ensure complete accuracy of the data captured.
Capturing the data electronically and then field surveying for validation and updating proved to be many times more cost efficient for Midland Heart than a traditional field survey would have been. The project was also completed in less than three months, rather than the original expectation of over nine months for a traditional survey exercise.
Final data was supplied to Midland Heart in their existing GIS format thus ensuring exact compatibility with other property asset data. Midland Heart staff are now able to maintain this record as an ongoing management tool and produce neighbourhood maps showing locally maintained land to demonstrate clearly and accurately grounds maintenance charges for residents.
"Ultimately, both Steve and I are massively impressed with the results from the project, particularly given the time constraints" – James Jervis – GIS Analyst at Midland Heart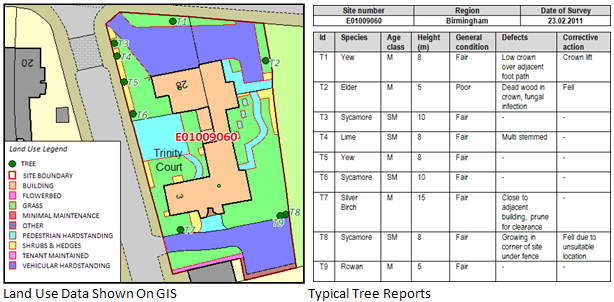 The Result
Midland Heart now has a comprehensive and accurate record of what is owned and what should be maintained.
There is, for the first time, the ability to produce an accurate bill of quantities for letting and managing the grounds maintenance contracts.
There is now a single, consistent record of ownership for the whole region shown visually on up to date maps.
Significant cost savings can be achieved in maintaining the estate.
Cost savings identified provide an immediate return on the cost of the data capture project.
Areas of land suitable for development or redevelopment can be easily identified.
An ability to link information between the GIS system and the stock condition records.
"Both Steve and I are really impressed with the results – just looking at the range of information it's obvious to see how useful this data is going to be for us" – James Jervis – GIS Analyst at Midland Heart
Data Insight GIS and John Lester Partnership can transform the accuracy of your asset records, present it for you on easy to use digital maps and save you money.
Call or email Alex Taylor on 07884 311062 or (Please enable JavaScript to see email address) or John Lester on 01455 558898 or (Please enable JavaScript to see email address)