Data Insight (GIS) offers a range of services to help maximise the value of business data and improve service provision including:
Address Management and Geocoding
Geocoding is the process of adding a National Grid co-ordinate to a location, usually an address, so that it can be viewed in a GIS. Data in any format can be cleansed and its accuracy improved to current Ordnance Survey mapping prior to undertaking the geocoding.
Data Digitisation
Data digitisation includes a full data capture service for records including property data, BLPU information, assets, and constraints. Our skilled technicians can work with all of the commonly used GIS systems to convert hard to access data that may still be held as paper, aerial photography or microfiche into meaningful information that automate and streamline elements of decision making processes.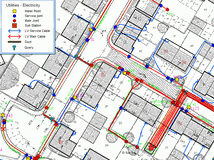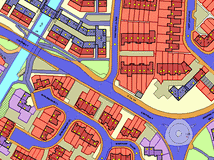 Data Analysis and Manipulation
Once data is captured, real value can then be derived from it. This can include the generation, manipulation, management and maintenance of data for use within a GIS or an asset management system. We can also assist in assessing paper and digital records, advising on which data to use and evolving tender specifications for future data management projects or land and property management and maintenance activities.
PAI Adjustment and Data Cleansing
The Ordnance Survey commenced a programme of improving the accuracy of their 1:2500 mapping in 2001. As a result, data that matched the earlier mapping does not necessarily match the modern equivalent. Data Insight (GIS) offers a simple yet thorough and effective solution to these issues.

LLPG Preparation
All local authorities are required to maintain a local gazetteer, a task that can be complex and time consuming. By attaching addresses from various databases to Ordnance Survey datasets, a property polygon (BLPU) can be created for each addressable property to visually identify where addresses do not match. This is a proven method for reducing anomalies in LLPG data. Once digitised, BLPU data is available across the organisation and can be linked to other datasets. It can also dramatically reduce the time to digitise planning and land charges data.
Document Scanning
Documents and plans ranging from A6 to A0 can be scanned, with formats ranging from paper, microfiche, microfilm, large format plans, drawings and maps. Images can be provided as colour or black and white and to any resolution or format. Documents are stored in your document management system and can be associated with spatial features in your GIS.
Data Maintenance
To obtain the most value from captured data it needs to be regularly updated and maintained. To ensure the on-going accuracy of the data or to input future records or changes (eg survey data, ownership changes) a data maintenance and update service is available.